Commissioner Julie Cozad will be holding office hours in our southwest Weld office on Friday,
On April 27, 2018 at 7pm in the Weld RE-5J Administration Building East Training Room
Tomorrow, April 20, is no school for all students across the school district, it is
Tonight's Weld RE-5J School Board meeting can be livestreamed at the attached link http://ow.ly/yT8e30jySfA RE-5J
The next Weld RE-5J School Board meeting is tomorrow, April 18, at 7pm. Attached is
In case you missed the play area ribbon cutting at Riverside Library and Cultural Center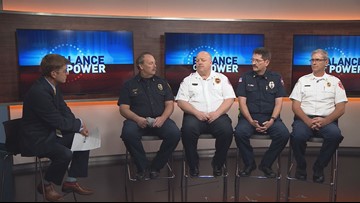 Although I am not a fan of the frightening headline, the problematic confluence of two pieces of Colorado legislation presents a very, very troublesome special district future. If you have 20 minutes, please give the video a watch. Thank you to my friends / peers who had the courage and
All soccer games for Saturday, April 21st are canceled due to weather and unplayable field conditions. *This includes ages 4U, 6U, 8U, 10U and 12U
🔙2⃣🔙[fb_vid id="10156160231116113"]
Top Play 40: Eyes in the back of his head 👀[fb_vid id="10156250368493610"]
There's a reason why Roquan Smith was the first Georgia Football linebacker to win the Butkus Award. #BroncosDraft[fb_vid id="10156532871121318"]
Dropped a crazy one in the series finale. Reset tomorrow.
Top Play 39: Mason with the clutch jam![fb_vid id="10156250372918610"]
"If the #Broncos select Bradley Chubb with the fifth overall pick, what position would he start at?" Mason's Mailbag: Pondering draft possibilities
END OF ONE: Avalanche 0 - Predators 0 Shots: 8 - 11 Power play: 0/1 - 0/0 Hits: 9 - 9 Blocks: 3 - 10
Top Play 38: Thrill is too smooth.[fb_vid id="10156250378913610"]